'A positive response to the language crisis' - that's how campaigners have
described the 'living manifesto' they have launched in Caernarfon.
The manifesto, drawn up by Cymdeithas yr Iaith Gymraeg, includes over twenty
policies to reverse the decline in Welsh speakers seen in the Census results
earlier this week. Amongst the ideas, the society is calling for: a transformed
planning system to deal with the challenges of out-migration and in-migration;
making the Welsh language an essential skill for public sector workers; an
education system throughout Wales where every pupil leaves school completely
fluent in the language; devolving jobs to communities, and quadrupling the
Government's investment in the language.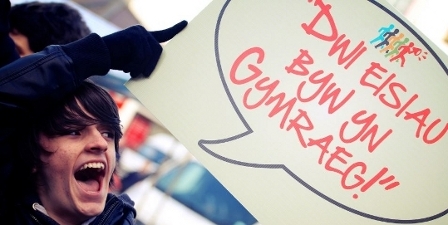 According to the Census, there were twenty thousand fewer Welsh speakers in
Wales down to 19% of the population from 21% a decade ago, and the percentage of
speakers fell in all the counties of the north and west. The Welsh Government
had a target of increasing the number of speakers by 5% to over a quarter of the
population.
SEND A MESSAGE TO FIRST MINISTER CARWYN JONES NOW
The pressure group is encouraging contributions from the public and communities
to its manifesto on Twitter by using the hashtag #maniffestobyw or emailing
post@cymdeithas.org, to develop the ideas further.
Robin Farrar, Chair of Cymdeithas yr Iaith commented:

"This manifesto is a positive programme of work which could change the fate of
our unique national language. There's no point sitting back and accepting the
Census results: with positive campaigning and political will, we can change our
fate and that of our Welsh language communities. The language and its
communities cannot afford more of the same from Government or organisations in
Wales more widely.
"It's time for bravery and new ideas from our politicians. If the Welsh
Government accepts this is a crisis that requires an urgent response, then
there's hope. We believe it's the wish of an increasing number of people in
Wales to live in a country where we can all live our lives in Welsh; we also
understand that ensuring the strength of Welsh language communities is the only
way to realise that vision. What's needed now is the political will to realise
the ambition of people around the country."
Cymdeithas' sustainable communities spokesperson Toni Schiavone, who led the
work of drafting the manifesto, added:
"As a group we don't claims to have all the answers, so we will be encouraging
communities and individuals to add to these ideas. However, without a doubt,
there needs to be a series of clear and bold policies from the Welsh Government
in every field, but especially education, planning, housing and the workplace to
reverse the decline.

"We have been discussing some of these idea for months amongst our membership,
but we have been reviewing everything in light of the Census results. We
recognise the seriousness of the situation, so we are opening up our ideas for a
discussion and hope to engage people across the country."